Something Less
originally appeared in Rattle Poets Respond
Farewell, farewell, you old rhinoceros,
I'll stare at something less prepoceros
—Ogden Nash
The hook of moon in the afternoon sky—I see horns everywhere!
The splash of blood, the thin white thigh. (I see horns everywhere.)
They said its skin is armor, bulletproof, iron. Yet, skin
Is skin is keratin. Of course, it's lies. I see horns everywhere.In the center squints a gray marble, ringed in wrinkles.
It drowns in the pit of my eyes' sea. Horns everywhere.The fever would not break. She poured the powder in the pot.
"Drink or else get sick and die." I see horns everywhere.My tongue too long a willow in dust. My father warned, "Squeeze!
Don't jerk, or you'll shoot too high." I see horns everywhere.Javan, Sumatran, Black, White: the hurricane
of cream in the coffee's eye. I see horns everywhere.Above the zoo pit, looking down from the bridge. I ask,
"Is he sleeping?" "No, Son," she cries. I see horns everywhere.We were told to press our feet to the ground, like him, trusting
it to meet us, but instead, there was sky. I see horns everywhere."Do they ever grow back?" she asks through an interpreter.
The bright pink flesh-pit covered with flies. "I see." Horns everywhere.That night in Jakarta, you sent shards of chill down my spine. The traffic,
sweat-dreams, we stopped ships all the way to Shanghai. Icy horns, everywhere.The dictionary entry is already written in past tense.
Don't believe me? Look it up—F, G, H, I, I see. Horns everywhere.We hear the spiny echo, find the massive shadow against the trees.
Broken toy creatures under the baby's chair. I sigh. I see. Horns everywhere.
---
Running away from home
originally appeared in Antietam Review

Inside the rest stop, Sis spent the change on Cheetos,
a lottery ticket, and a map of a place where we were not going.
Wasting for want of a seventy-song jukebox,
she had arranged our departure consulting only clouds
seen with the silos and feedlots
from atop our still oilpump,
the one she had insisted we paint bright green,
so to seem like a giant sleeping grasshopper.
She then stole the keys to the '82 Fairmont
and we were gone.
I boot-heeled the toilet's flush plunger,
checked myself in the mirror by the condom dispenser,
and remembered what Jose Longoria told me when we were five:
the lies about Spanish cuss words and women's body parts
and how stars were so big that just one could cover
the whole back pasture.
Outside again, Sis and I searched for the highway, and night fell
with the sound of jays screaming as raccoons ate their eggs.
How we laughed nervously under sugary stars
when as we burned the onramp in fumes of smoke and creosote
I said this night was so much like the one
when Dad caught that cottonmouth in the backyard,
and we didn't sleep good for weeks,
squeezed tight in dream coils of snake vengeance.

---
Rope Walker
originally appeared in Aries

On July 28, 1898, in Corsicana, Texas, a group of merchants sponsored a publicity stunt to attract local farmers to town. They hired a one-legged transient tight-wire walker to walk a rope stretched over Beaton Street from the tops of two downtown buildings. The sixty-nine-year-old man had a peg leg with a groove notched in it to accommodate the wire, and to add to the spectacle, he was to carry a cast-iron stove on his back. When he was halfway across the street, the rope sagged too much, and he fell. Dying, he told those attending to him his place and date of birth, but if he gave his name, no one remembered it. He was buried in the Corsicana cemetery under a marker engraved simply, "Rope Walker."

I have a scar from some spill from when I was young,
too young to even remember. But I've spent hot days mulling over
how raw underskin must've glowed, how blood-seeds must've clung
to the sparkling shards of some bud vase, and how it must've made me braver.

Till I was old enough to know better, I imagined invisible shoemakers
pushing through elves to sew my screaming shut with shoestring,
perhaps a poultice of rotted swamp moss, and a handful of jawbreakers.
Then the Fire of '55 took my wife, my leg, and I met real suffering.

So I spent forty years walking rope from one jerkwater town
to the next, sometimes skating like Christ on the Lake of Gennesaret,
thinking if I ever stumbled, I'd sink as slowly as thistledown,
because I was bound to have had all the hurt that I was ever gonna get.

You just need to know I was born in '29 in Princeton, New Jersey,
and that life permits a few small slips, but it's damn hard on the clumsy.

---
Leaving Lima
originally appeared in Common Ground Review

The baggage searcher's crooked back crests
over x-ray machines like bulging
blurs in Loch Ness postcards.
It swims to me, slowly

slaloming through stainless steel tables.
The old man grabs my backpack,
fumbles opening the flap.
I show him how,

and eyes imitate gratitude. Leadenly, he guts my luggage
while my redeye boards, eighteen gates away:
Balls of shameful tube socks are tossed.
Bottles of unlabeled liquids, sniffed.

There's the alpaca-wool blanket I'll forget to declare,
under Dramamine boxes and boxer shorts, still
damp from a last-minute dip in the sea.
Long after the final boarding call,

he pauses, certain he's satisfied his supervisors,
stares at such great wealth, and walks away,
having seen inside this gringo's bag
and undone what he could.

---
Oil Field Girls
after Jerry Bywaters

originally appeared in American Literary Review

They walked to the road,
and the morning light fell around them,
as if the air holding it
were gift paper peeled slowly back.

The road seemed wide and steady there
but, further down the draw
it squirmed and shook
in lazy waves of heat.

They stopped on the shoulder,
watched the dust settle
back into its place
inside their footprints.

They may have envied it, the dust,
its having a place
while they drifted
along the road

and every road
like the long-forgotten sound of water:
ghosts of something that never lived:
ghosts of ghosts.

Yet, they knew the dust, too, drifted.
They knew it sometimes rose
high in painful, cutting gusts
in clouds mighty enough to blacken day.


---
Driving Elvis Back to His Room
Clarksdale, January 12, 1955

originally appeared in Chiron Review

The Civic Auditorium has been empty for good near an hour now. The greasers have scattered away with their whipped-up foremen's daughters, leaving the old gins to churn their own twelve-bar rhythms. And that's all right, mama. Our Caddy is on fumes. The pint jar, too. God, it had been a show they'll talk about for years.

vapors
whispers in the night
singing

Flathead V-12s growl, peel off the strip for tree lines, goat pastures, where the smell of timber-camp fires tosses promises of honesty like crap dice against leather bucket seats. We pass white forms in the night, phantom cattle floating just outside the headlights. I'm left, you're right, she's gone.

And what is he thinking, this kingmaker, as he slips out onto the gravel drive? Does he think of the heavy movement toward home, popping and strumming more slowly the farther he moves away?

f-hole
into its black curve
morning slips

---
Excerpt from the Poet's Guide to Metallurgy
originally appeared in di-vêrsé-city

Gold — Valued for its color,
that of clichés like sunsets
and the hair of untouchable women.
Nonetheless, traces are said to be found
in seawater and toenails; may be spun from straw
in exchange for trinkets and firstborn children.

Gallium — Notable for its low melting point:
liquefies in the human heat of palm or navel
or under breath upon the nape of the neck.
Used to stabilize
plutonium in the core
of early atom bombs.

Tin — Highly malleable, widely used, though
its use connotes worthlessness. When bent,
its crystals produce a delicate whining
known as tin cry.
A bar of tin will cry like this
over and over until it breaks.

Lead — Gray, soft, and toxic.
As a plumbing material,
it is often blamed for the fall of Rome.
Formerly used chiefly to settle disputes;
now principally as a pigment
in paint for children's toys.

Iron — So valued by frontiersmen
that, when they left a place,
they burned the homes they had built
to the ground
then sifted through smoky ashes,
looking for nails.

Barium — Instantly reacts with air.
Left out overnight, will crumble into powder.
Apparent delicateness is deceptive:
Was once put into a bean burrito
by a teenaged girl in Texas
to murder her father.

Silver — In India, pounded into brittle leaves
and eaten as a covering for sweets. It is so thin
that if handled indelicately, it will shatter
in shards of floating light. It is a holy thing
to dream of breezes through the wet yellow heat
in the kitchens of Mumbai.

---
Osage Friendship Blanket, Late Nineteenth Century
Houston Museum of Natural History

originally appeared in the 2015 Texas Poetry Calendar

The flood left them nothing, save one blanket, which they found deep in the bottoms and pulled from rot-wood and corneas of bottle ends, worming in the wet red earth. At that, not even a useful blanket. A wearing blanket, it was called, the kind an Osage girl would drape over her shoulders just so, such that each colorful silk ribbon would flow down her forearms.

in the fresh cut bank
the river has opened
rain lilies, old graves

They washed it till its yellows glowed like Easter, till its blue shone brighter than the kerosene lamps above the river. When the cold came, Grandfather sold the blanket to the museum man, and they lived off that for a while.

That winter was warmed only by fever. They were quarantined, and Grandfather chopped the broomstick into checkers, built a gun from a drainpipe and a nail to keep from going mad. At least that's what I was told.

gray morning
possession vine choking
the rusted harrow

I was merely ten when we drove to Houston to see it. I just remember scrawling furiously on the back of the Waffle House menu, taking back our blanket with spears of cornflower, dandelion, raw umber, and Indian red lying about me in mounds of broken wax.

primrose unfolds
the moth stops to drink
its yellow dust

---
Pecos Bill, Aiming
originally appeared in the 2013 Texas Poetry Calendar

I decided that night to love you,
there in the company cantina,
your calico dress still damp
from riding that catfish up the Rio.
You blushed through the barroom dust
and all night we danced
without moving.
Perhaps it was the quicksilver
seeping from the cinnabar,
but that night I let you tame me.

Oh, how we would lay awake
under miles of our days--
wrapped in our days like blankets,
warmed by their softness--
buried in our days, unable to sense
the sun above.

I showed you how to saddle a twister
turn rattler to lariat, panther to steed.
You taught me to sweeten my breath
with wildflower honey,
your eyes glowing like phlox on fire.

They laughed when Widow-Maker threw you,
the iron hoops under your wedding gown
sending you bounding higher and higher--
so I shot the dirty cusses down.
Still for three days, four nights,
I tried to catch you.
Only I knew you had begun your slow starving.
Only I knew you were trying to pluck the stars,
the ones you had promised me.

---
It Don't Matter Who's in Austin
originally appeared in the 2014 Texas Poetry Calendar

Up from the slouching clapboard walls,
we rise, kicking tin ceiling tiles, glass.
Who would shoot at such a place?
she asks, plugging holes with her artist's fingers.
I do not answer her, turning over a church-keyed can
its red rust sticking to my fingers like sugar.
Over there must have been the stage
and that must be where they danced.

My grandfather said he once hopped a train
from Henryetta to Sherman to see the Texas Playboys.
The oilfields and cedar breaks streamed by
the slats in the boxcar,
the smell of sweat and pomade in his nose,
and a week's pay rolled tight
in the breast pocket of his town shirt.

The wind shifts, slapping thistles
against the walls of worm-holed pine.
It whistles like a high lonesome bow dragging
across catgut strings. It sings
a dreamy-eyed waltz.
Step back here, through the weeds.
Take one last look.

Back in the car, we talk
about where we'd like to be buried
while the waves of yellow hawkweed roll.

---
[haiga : arroyo seco]
originally appeared in Lifting the Sky: Southwestern Haiku & Haiga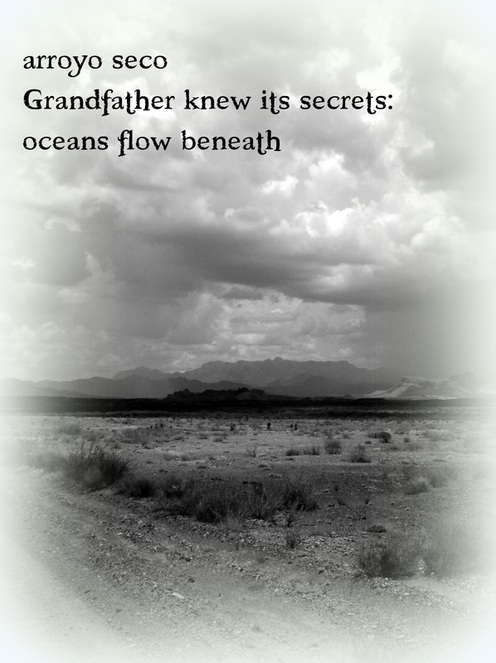 ---
[haiga : such a deep lowing]
---
[haiga : tufts of whitetail fur]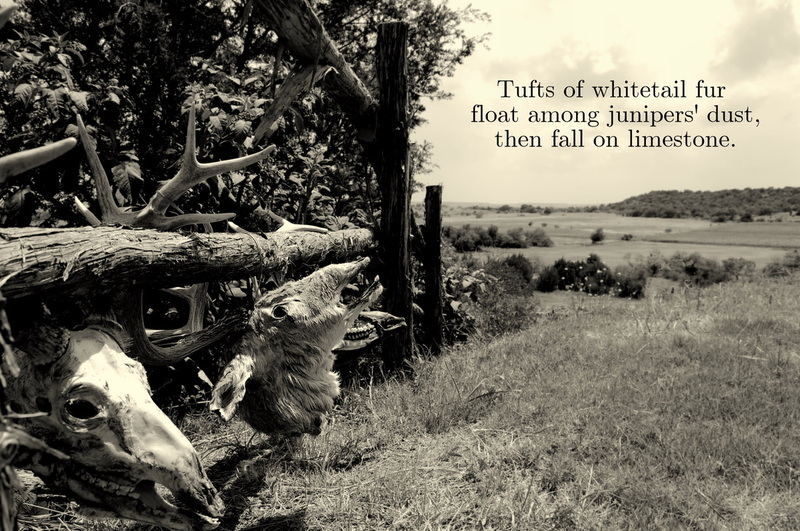 ---